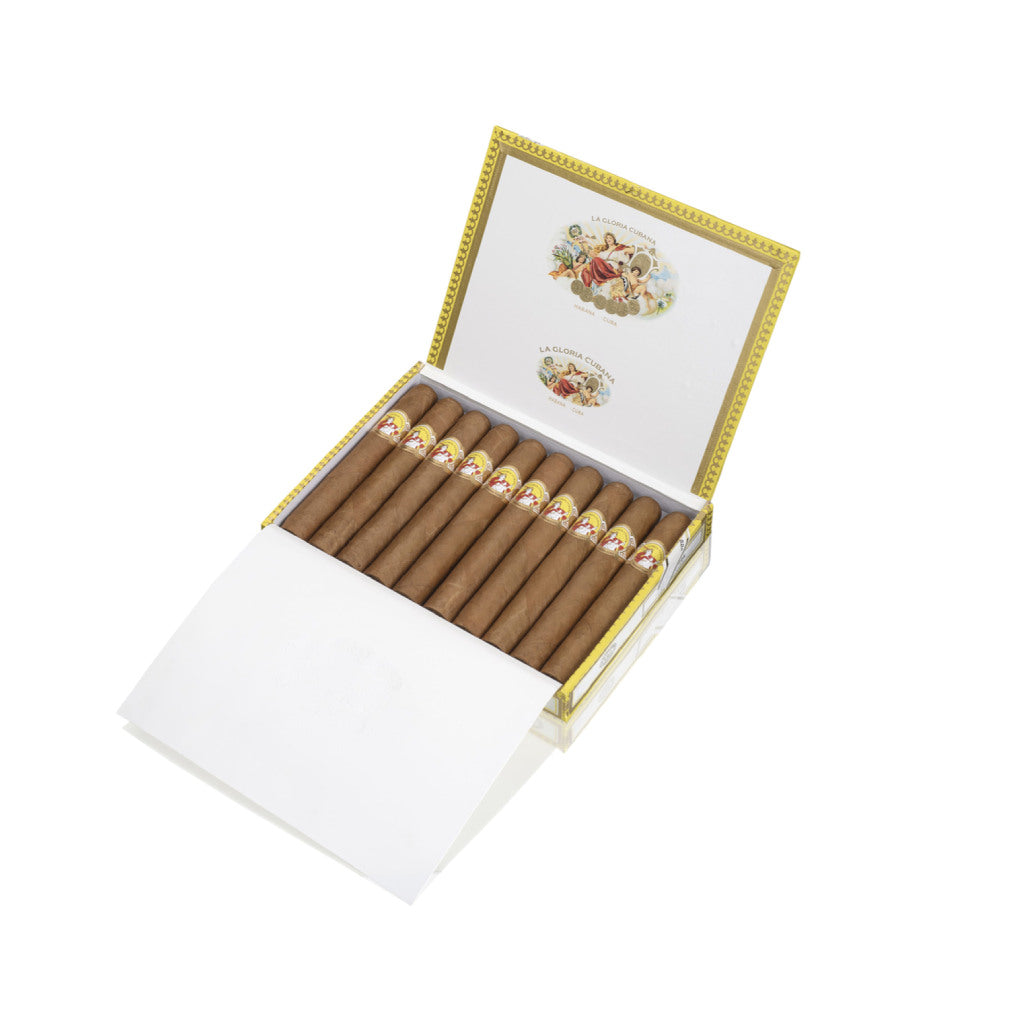 TURQUINOS

Description: Dive into the rich tapestry of Cuban heritage with the La Gloria Cubana Turquinos. A cigar that pays homage to the Pico Turquino, Cuba's highest peak, it's more than just a smoke – it's a journey through time.
Key Features:
Size & Dimensions: Exquisite Gordito size, boasting a 50 ring gauge x 141mm length, perfect for a long, satisfying smoke.
Construction: Meticulously handmade, adorned with the classic standard band B, a testament to its premium quality.
Packaging: Elegantly presented in a dress box, housing 10 cigars, making it an ideal gift or a centerpiece for your collection.
Historical Significance: The Turquinos is not just a cigar; it's a revival. Echoing the legacy of its predecessor from the 1970s, this new iteration is set to carve its own niche in the annals of Cuban cigar history.
Recent Accolades: Making a grand debut at the renowned Festival del Habano XXIII, the Turquinos has already garnered attention and anticipation. Its vitola resonates with the iconic Hoyo de Monterrey Epicure Especial, a nod to timeless Cuban traditions.
Why Choose La Gloria Cubana Turquinos?
Authentic Cuban Heritage: A brand synonymous with Cuban cigar excellence.
Limited Release: A unique addition to 2023's cigar lineup, ensuring exclusivity.
Perfect for Collectors & Enthusiasts: Whether you're a seasoned aficionado or new to the world of cigars, the Turquinos promises an unparalleled experience.
Founded in 1885, La Gloria Cubana  is a little known jewel amongst Habano brands; its name alone clearly defines its origin. During its more than 100 years of history, La Gloria Cubana has always attracted a circle of loyal fans, who are traditionally among the most knowledgeable smokers. During the 90's cigar-smoking revival, famous blender Ernesto Perez Carrillo re-edited the collection and made the brand one of the best-selling for full-bodied cigars. The brand is characterized by its elegant presentation, especially in the Medaille d'Or Series. All the vitolas are "Tripa Larga, Totalmente a Mano – long filler, totally hand made". The blend, made from filler and binder tobaccos grown in the Vuelta Abajo region, is classified as medium and offers well-balanced nuances of taste and aroma.