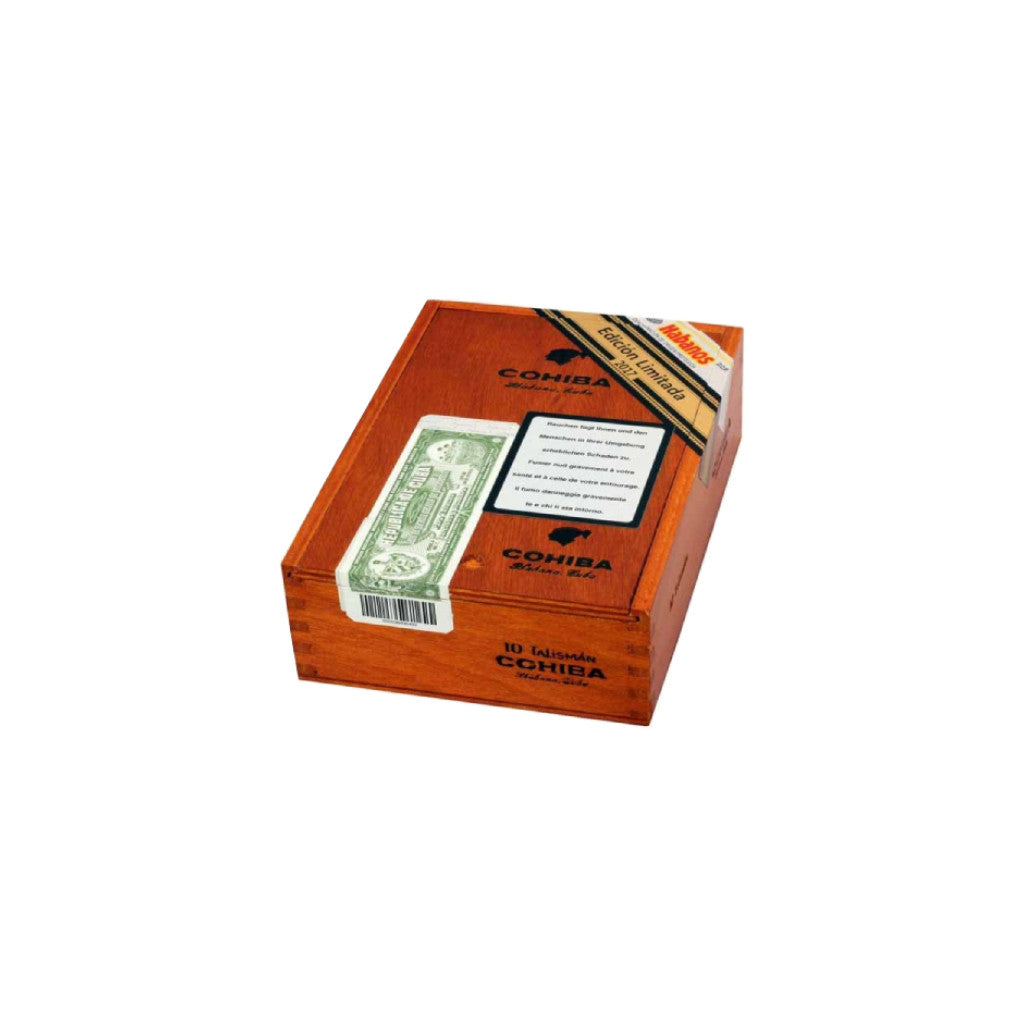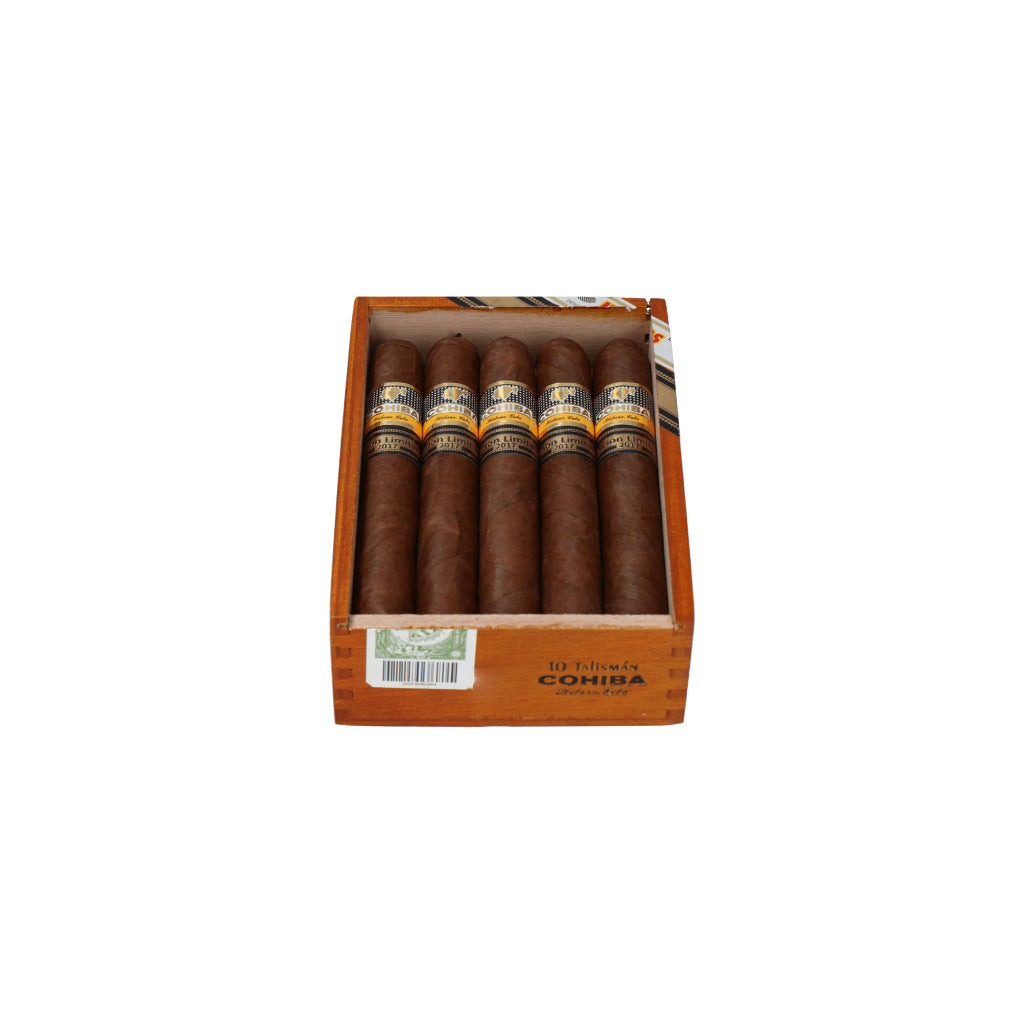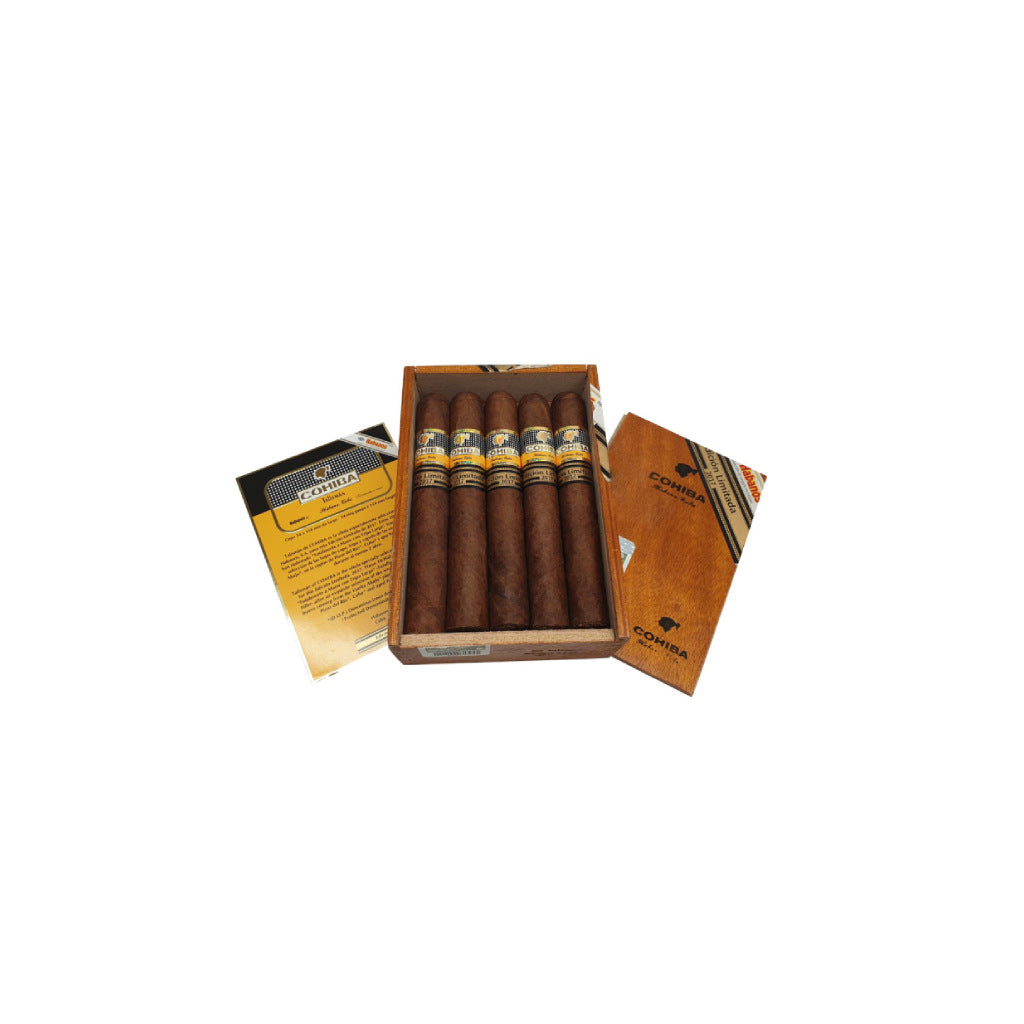 Talisman Limited Edition 2017
Cohiba Talisman Limited Edition 2017
Product Overview: Step into the world of luxury with the Cohiba Talisman Limited Edition 2017. This Cuban cigar, a standout release from Habanos S.A., is not merely a smoke but a celebration. It encapsulates the rich legacy of the Cohiba brand, its iconic limited editions, and the pinnacle of Cuban cigar craftsmanship.
Dimensions: 154mm (6 inches) by 54 ring gauge, boasting the Robusto Extra or Cañonazo Doble vitola.
Key Features: • Exclusive Release: Part of Cohiba's iconic limited editions, making the Talisman a collector's dream.
• Rich Flavor Profile: Experience notes of wood, grass, earth, and sweetness, evolving to flavors of cedar, coffee, nuts, leather, and citrus.
• Signature Presentation: Housed in a varnished wood cabinet with a sliding lid, adorned with a secondary Limited Edition band and an elegant pigtail at the head.
• Aged Perfection: Tobaccos aged for over two years, with the Seco and Ligero leaf undergoing an extra 18 months of aging.
Why Cohiba Talisman Limited Edition 2017? The Talisman is a blend of history and craftsmanship, rolled at the legendary El Laguito factory in Havana. Beyond its impeccable taste, it stands as a testament to the artistry of cigar making, making it a must-have for discerning enthusiasts.
Conclusion: The Cohiba Talisman Limited Edition 2017 is not just a cigar; it's a narrative of tradition, luxury, and the bond between a brand and its patrons. A narrative every aficionado would cherish.
Tags: Cohiba, Talisman, Limited Edition, 2017, Habanos S.A., Robusto Extra, Cañonazo Doble, Cuban cigar, aged tobacco, El Laguito factory, Havana, collector's item, varnished wood cabinet, pigtail head.
Cohiba is the most prestigious brand in the tobacco world. 
It was created in 1966 and for many years it was intended solely as a gift to government personalities, national and foreign, and to President Fidel Castro. Since then, it has been manufactured in the prestigious El Laguito factory in Havana. It was in 1982 when Cohiba became available to be enjoyed by the world's most demanding smokers in limited quantities. The name "Cohiba" is an old word used by the Taíno Indians, original inhabitants of the Island, to define the rolled tobacco leaves that these Indians smoked. Cohiba is for hence the first name of tobacco. Cohiba is the only Habanos brand in which two of the three types of leaves used to make it, dry and light, undergo additional fermentation. This special treatment gives Cohiba an unmistakable aroma and flavor, which cannot be found in any other brand. Cohiba, is synonymous with exclusivity, of something beyond the senses, a unique experience for lovers of the best tobacco in the world.