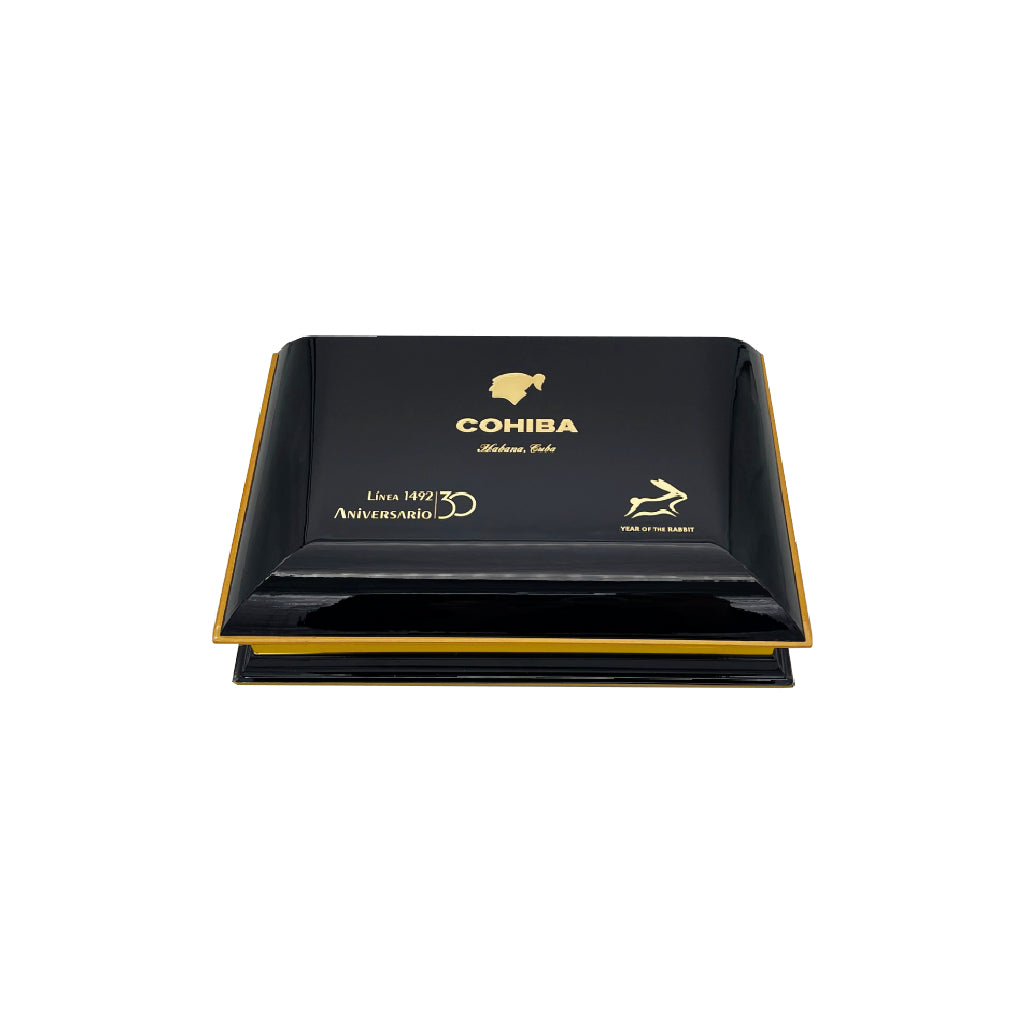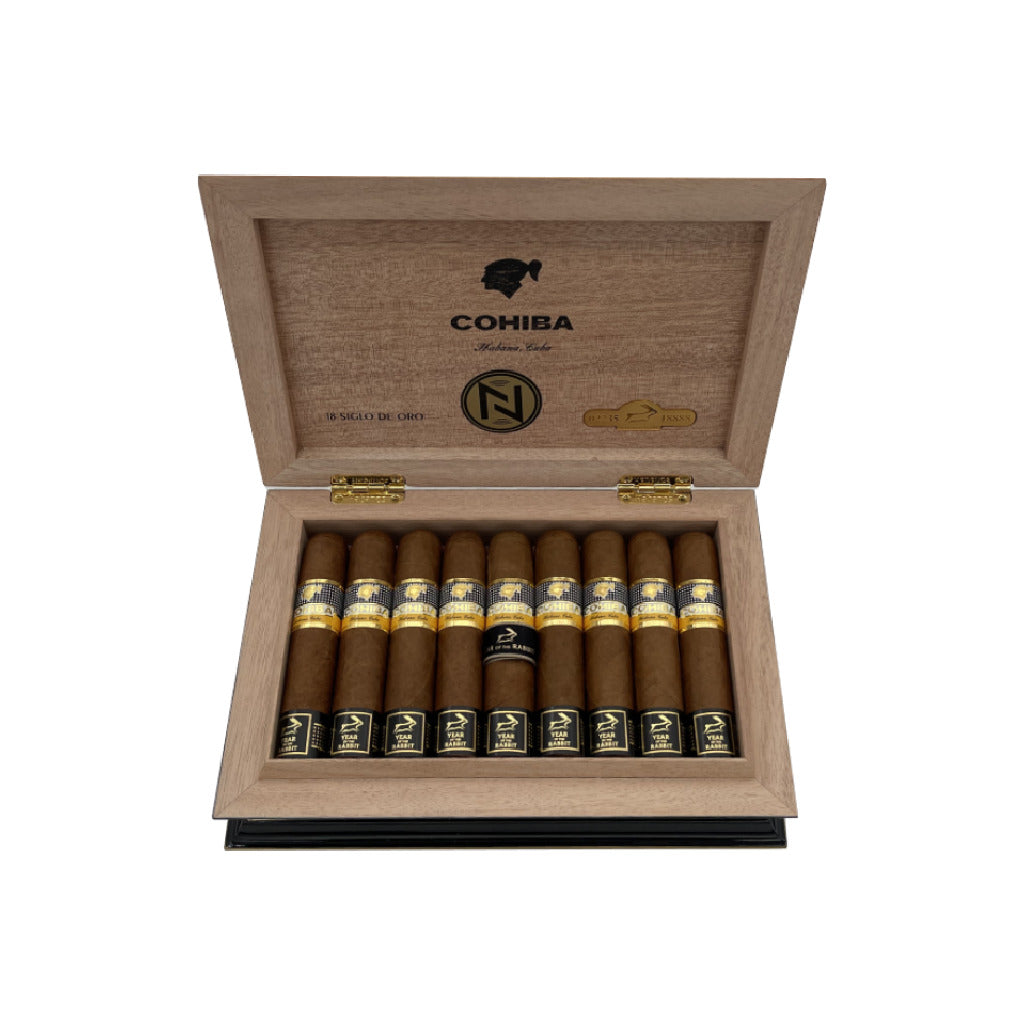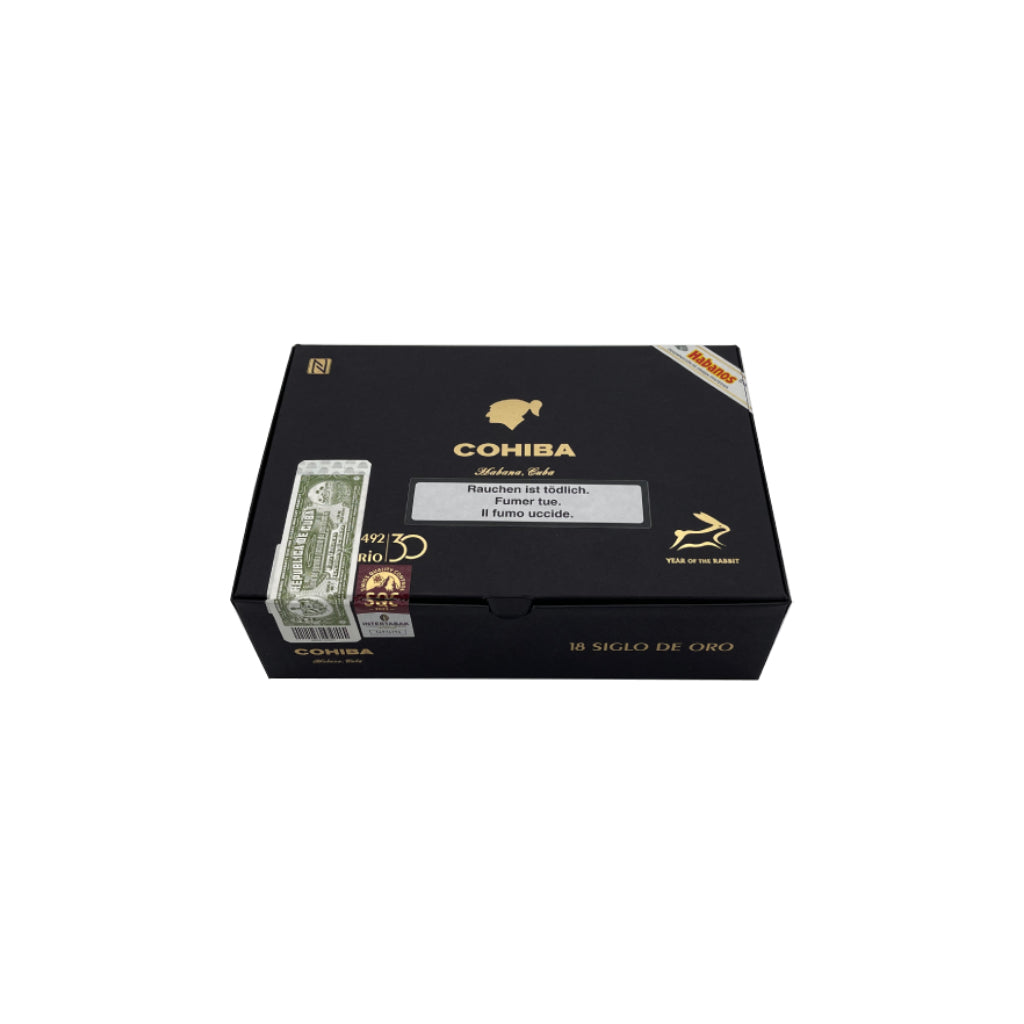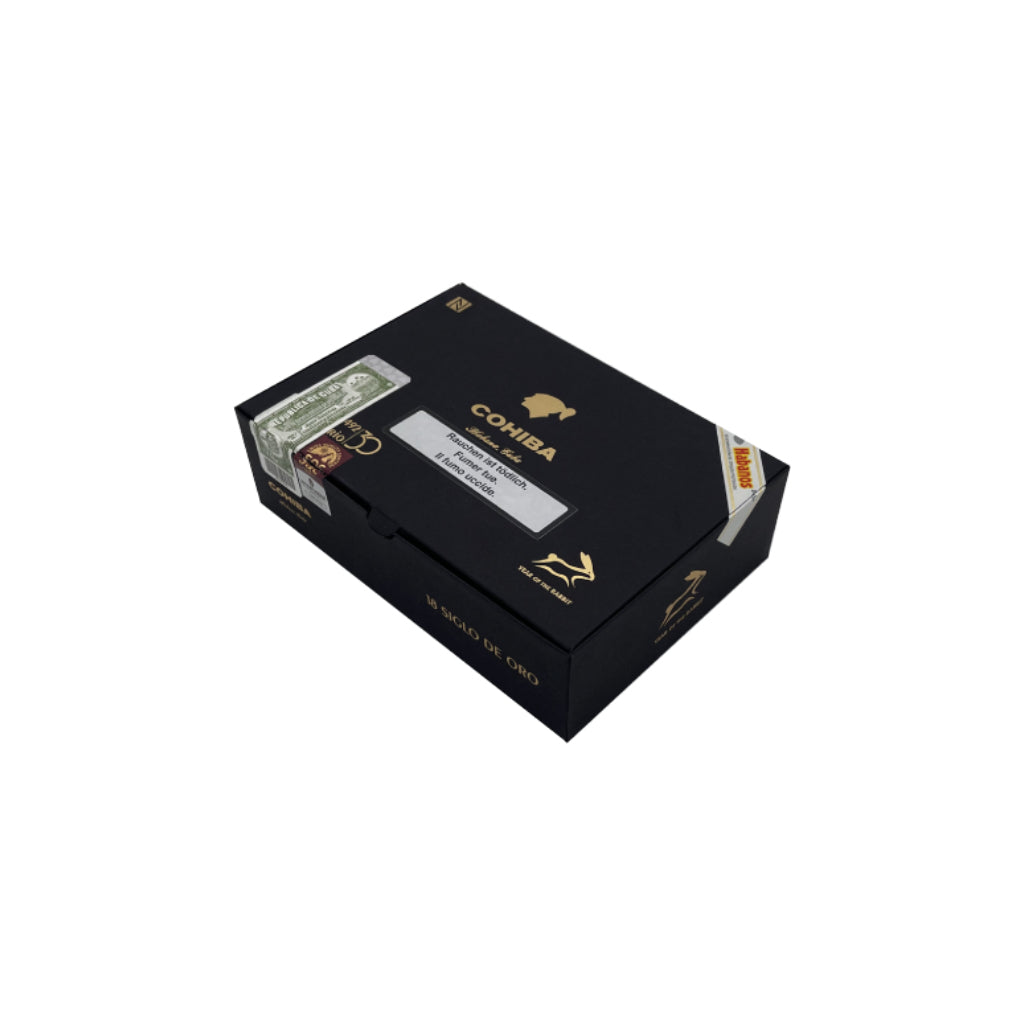 SIGLO DE ORO - YEAR OF THE RABBIT

Cohiba Siglo de ORO: A Golden Tribute to Tradition and Authenticity
Product Overview: Step into a world of luxury and tradition with the Cohiba Siglo de ORO. This limited-edition Cuban cigar is not just a smoke; it's an experience. Crafted to celebrate the Year of the Rabbit and the 30th Anniversary of Cohiba's Línea 1492, each puff takes you on a journey through time and culture.
Dimensions: 4 1/2 inches by 54 ring gauge.
Key Features:
Limited Production: With only 18,888 boxes ever made, owning a Cohiba Siglo de ORO is a privilege. The number 8, revered in Chinese culture for its auspiciousness, is emphasized in this release.

Authenticity at Your Fingertips: Each box comes with NFC technology, ensuring you're getting the genuine article. Counterfeit cigars are a thing of the past. Verify your purchase with a simple tap, and be confident in the authenticity of your Cohiba.

Exquisite Packaging: Housed in an 18-count box, the Cohiba Siglo de ORO is a sight to behold even before it's lit. The design pays homage to the Chinese Zodiac and the legacy of the Línea 1492.
Why Cohiba Siglo de ORO?
A Blend of Cultures: This cigar bridges the gap between Cuban craftsmanship and Chinese tradition. The Year of the Rabbit signifies good fortune, and with the Cohiba Siglo de ORO, you're not just smoking a cigar; you're partaking in a global celebration.

Anniversary Special: 30 years of the Línea 1492 is no small feat. This cigar is a tribute to three decades of unparalleled excellence in the world of cigars.
Conclusion: The Cohiba Siglo de ORO is more than a cigar; it's a statement. A statement of luxury, authenticity, and global unity.

Tags: Cohiba Siglo de ORO, Year of the Rabbit, Línea 1492, Cuban cigar, NFC technology, Zodiac calendar, Cuban cigar authenticity, limited edition Cohiba, Cohiba anniversary.
Cohiba is the most prestigious brand in the tobacco world. 
It was created in 1966 and for many years it was intended solely as a gift to government personalities, national and foreign, and to President Fidel Castro. Since then, it has been manufactured in the prestigious El Laguito factory in Havana. It was in 1982 when Cohiba became available to be enjoyed by the world's most demanding smokers in limited quantities. The name "Cohiba" is an old word used by the Taíno Indians, original inhabitants of the Island, to define the rolled tobacco leaves that these Indians smoked. Cohiba is for hence the first name of tobacco. Cohiba is the only Habanos brand in which two of the three types of leaves used to make it, dry and light, undergo additional fermentation. This special treatment gives Cohiba an unmistakable aroma and flavor, which cannot be found in any other brand. Cohiba, is synonymous with exclusivity, of something beyond the senses, a unique experience for lovers of the best tobacco in the world.