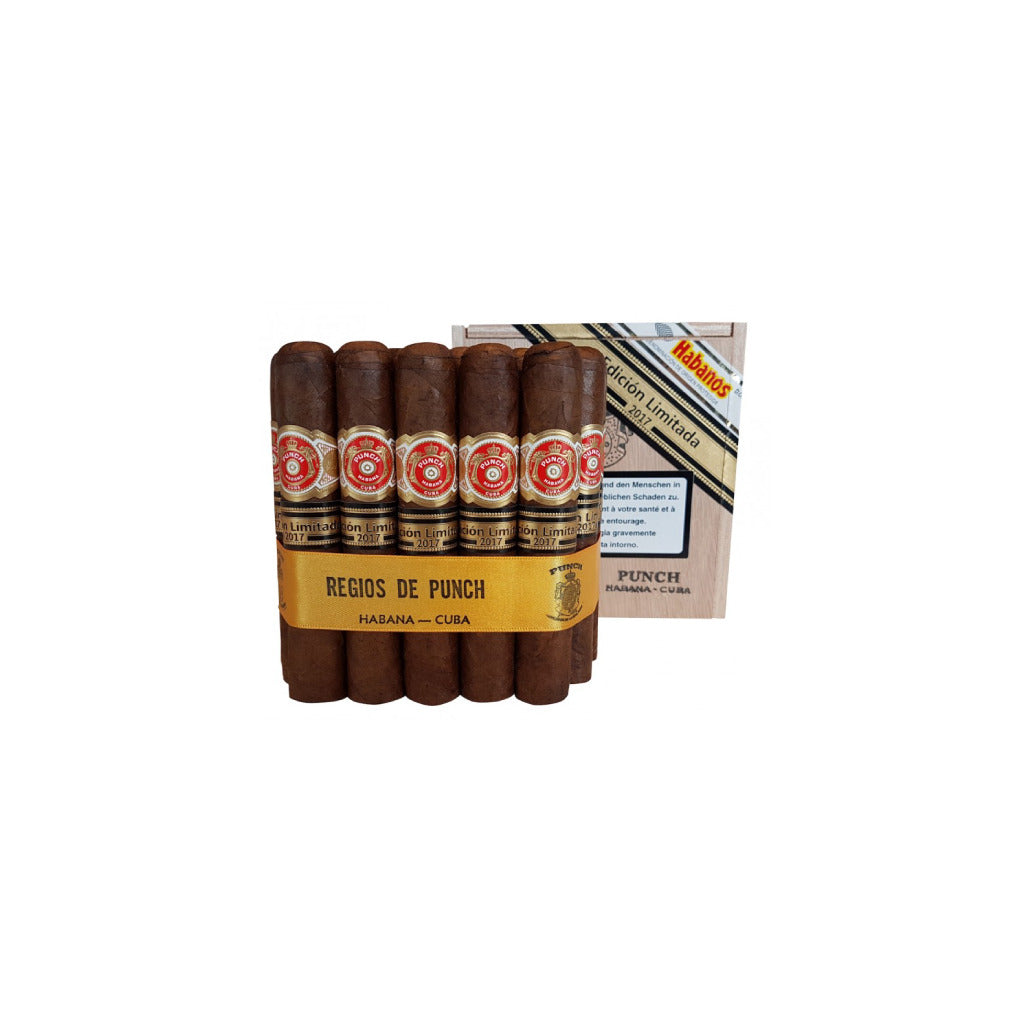 Regios de Punch Limited Edition 2017

Punch Regios de Punch LE2017
Product Overview: Experience the epitome of cigar craftsmanship with the Punch Regios de Punch LE2017. As a standout release from the revered Punch brand, this special edition cigar promises a smoking journey that's rich in tradition and flavor, making every moment memorable.
Dimensions: 120 mm by 48 ring gauge.
Key Features:
Collector's Edition: As a Limited Edition 2017 release, its exclusivity makes it a sought-after choice for aficionados.
Unparalleled Flavor: Crafted with a unique blend of the finest tobaccos, ensuring a balanced and rich smoke.
Elegance in Presentation: Its distinctive band and packaging not only signify its premium nature but also its place in the legacy of the Punch brand.
A Testament to Quality: Being a part of the Punch lineage, it embodies the brand's commitment to excellence in every puff.
Why Punch Regios de Punch LE2017 ? Opting for the Punch Regios de Punch LE2017 is about embracing a legacy of cigar-making excellence. It's not just a cigar; it's a piece of history, a symbol of luxury, and a promise of an unmatched smoking experience.
Conclusion: The Punch Regios de Punch LE2017 stands as a beacon of tradition, quality, and luxury in the world of cigars. For those who value the best and seek that extra touch of exclusivity, this cigar delivers on every front.
Tags: Punch Cigar, LE2017, Punch Regios, Limited Edition, Premium Tobacco, Collector's Choice, Luxury Experience.
PUNCH Punch is one of the oldest Habanos brands. Don Manuel López de Juan Valle founded this brand in the mid-19th century, with the idea of entering ​​the growing English market, where a humorous publication of the same name was in vogue in those days. Mr. Punch, the clown that was the symbol of that publication, continues to appear in each of the brand's boxes with his Habano in hand, surrounded by 19th-century images that shows the making of Habanos. In 1931, Punch moved to the factory where Hoyo de Monterrey was produced; a long association that continues today. Actually, the two brands are produced at La Corona factory. The characteristic flavor and medium strength of Punch, made with a blend of filler and wrapper leaves coming from the Vuelta Abajo zone, are available in a range of vitolas that are made "Totally Handmade with long filler".