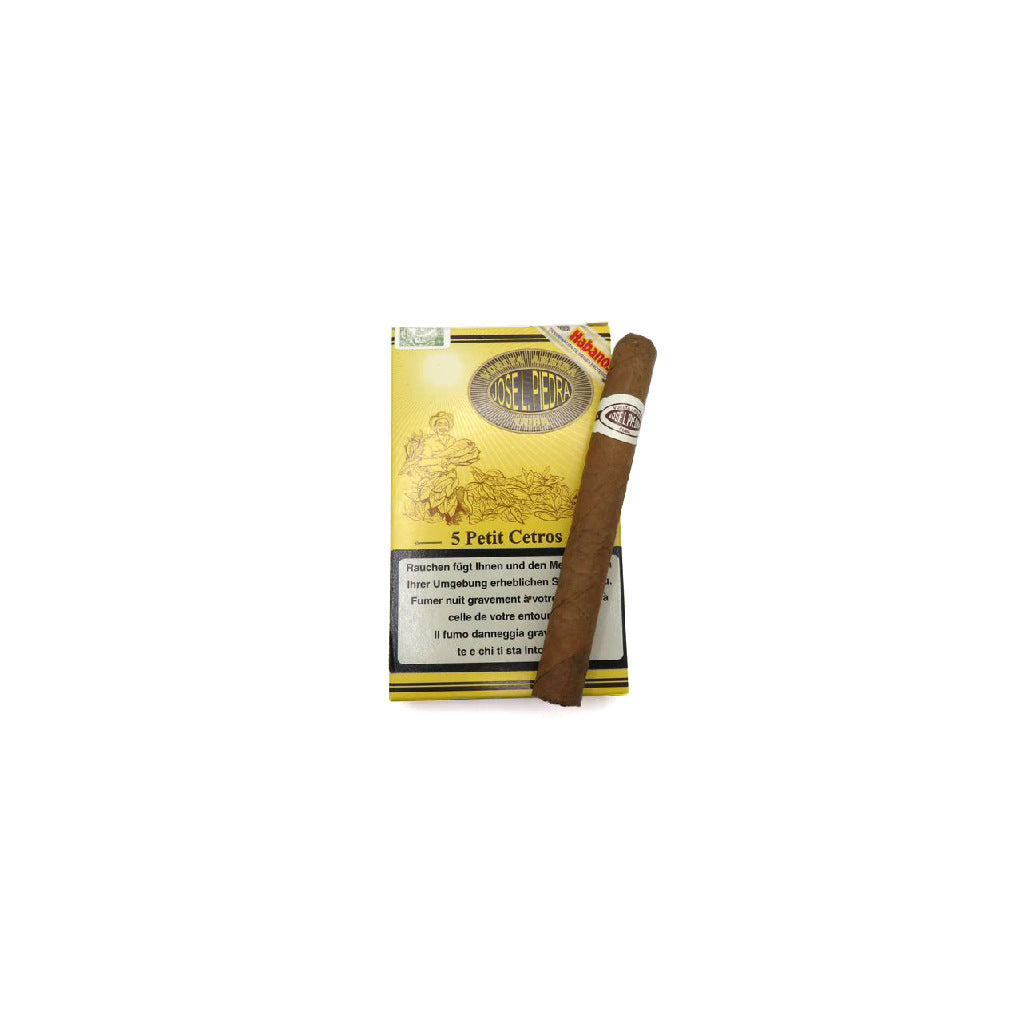 Petit Cetros

Description: Step into the world of genuine Cuban cigars with the Jose L. Piedra Petit Cetros. This Petit Corona cigar encapsulates the rich heritage of the Jose L. Piedra brand, offering a unique blend of earthy flavors, raw undertones, and a slightly pungent finish that resonates with the essence of Cuba.
Key Features:
Historic Legacy: Dive deep into the world of Cuban cigars with a brand that traces its roots back to the 1880s, symbolizing the pre-Revolution era's authenticity.
Flavorful Experience: Relish the earthy, raw, and slightly pungent flavors that define the Petit Cetros, making every puff a journey through Cuban tobacco fields.
Petit Corona Size: Measuring at 127mm in length with a 38 ring gauge, the Petit Cetros offers a balanced smoke, perfect for both beginners and seasoned aficionados.
Affordable Indulgence: Experience the luxury of a genuine Cuban cigar without stretching your budget, making it a value proposition for every cigar lover.
Tasting Notes: The Jose L. Piedra Petit Cetros is not just a cigar; it's an experience. From the initial light, the cigar introduces you to a robust, earthy taste, gradually unveiling its raw and slightly pungent undertones. The construction remains consistent, ensuring a smooth and memorable smoking session.
Tags: Jose L. Piedra Petit Cetros, Cuban cigar, Petit Corona, earthy flavors, rustic Cuban cigar, pre-Revolution brand, affordable Cuban smoke.
The Piedra family came to Cuba in the 1880's from the Spanish province of Asturias. They settled near the town of Santa Clara, which lies at the heart of the Remedios region where tobacco has been grown since the 16th Century, and started to make cigars. José L. Piedra is a particularly noteworthy Habano not only because its blend is composed of filler tobaccos grown exclusively in the Remedios region, but also because it is made using the Totalmente a Mano, Tripa Corta, - "totally hand made, short filler" technique.