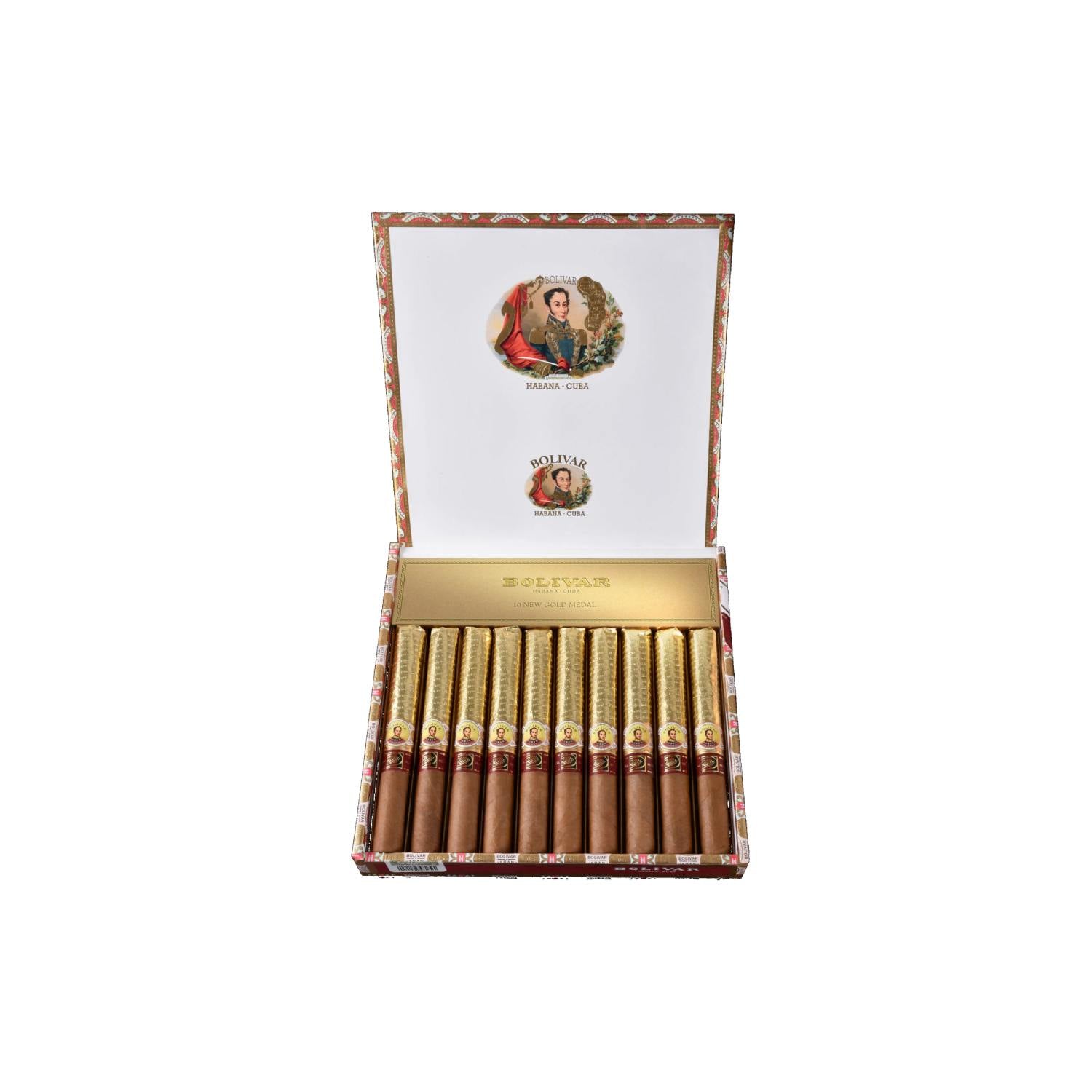 NEW GOLD MEDAL LCDH EDT

Product Description:
Introducing the Bolívar New Gold Medal, a Cuban exclusive that embodies the epitome of luxury and elegance. Enrobed in a regal sheet of golden foil paper embossed with the repeating Bolívar logo, this cigar is a symbol of sophistication and prestige.
Specifications:
Length: 6 1/2 inches
Ring Gauge: 48
Shape: Known as Partagas 15 in Cuban cigar factories
Wrapper: Embossed with golden foil paper
Availability: Limited stock in select markets
A New Era of Bolívar:
The "new" in the name highlights its difference from the cigar simply known as Bolívar Gold Medal, which was discontinued in 2011. The Bolívar New Gold Medal measures slightly thicker, offering a unique and rich experience.
Taste the Luxury:
Each cigar is meticulously wrapped in a sheet of golden foil, reflecting the grandeur of the Bolívar brand. The taste is as exquisite as its appearance, promising an unforgettable smoking experience.
Buy Now:
Get your hands on the Bolívar New Gold Medal today and indulge in a Cuban exclusive that's as rare as it is refined, this cigar is a must-have for collectors and connoisseurs alike.
Why Choose Bolívar New Gold Medal?
Exclusive Release: Premiered during the Habanos Festival, now trickling into global markets.
Unique Design: Wrapped in golden foil for a luxurious appearance.
FAQs:
Q: Where can I buy Bolívar New Gold Medal? A: Available here at siglomundo.ch
Q: What is the price of Bolívar New Gold Medal? A: Prices vary by location; please refer to the pricing section above.
Conclusion:
The Bolívar New Gold Medal is more than just a cigar; it's a statement of class and elegance. Order yours today and be part of an exclusive club of cigar lovers who appreciate the finer things in life
Established in 1902 by Josè Fernandez Rocha, Bolívar is a favorite brand  among Habanos enthusiasts of full flavor Habanos. In 1954 the Cifuentes family purchased the Bolivar and La Gloria Cubana brands from the Rocha family and moved the production to the Partagás factory in downtown Havana. The brand is named after Simón Bolívar, the Liberator of a large part of South America from the Spanish rule in the 19th century. In line with the character of this historical figure, Bolívar is one of the strongest and most flavor Habanos' brands. The blend, composed of filler and wrapper leaves coming from the Vuelta Abajo region, is characterized by the strong personality of its flavor and is especially appreciated by expert smokers. Bolívar cigars are made "Totalmente a mano con tripa larga" – Totally  handmade with long filler.