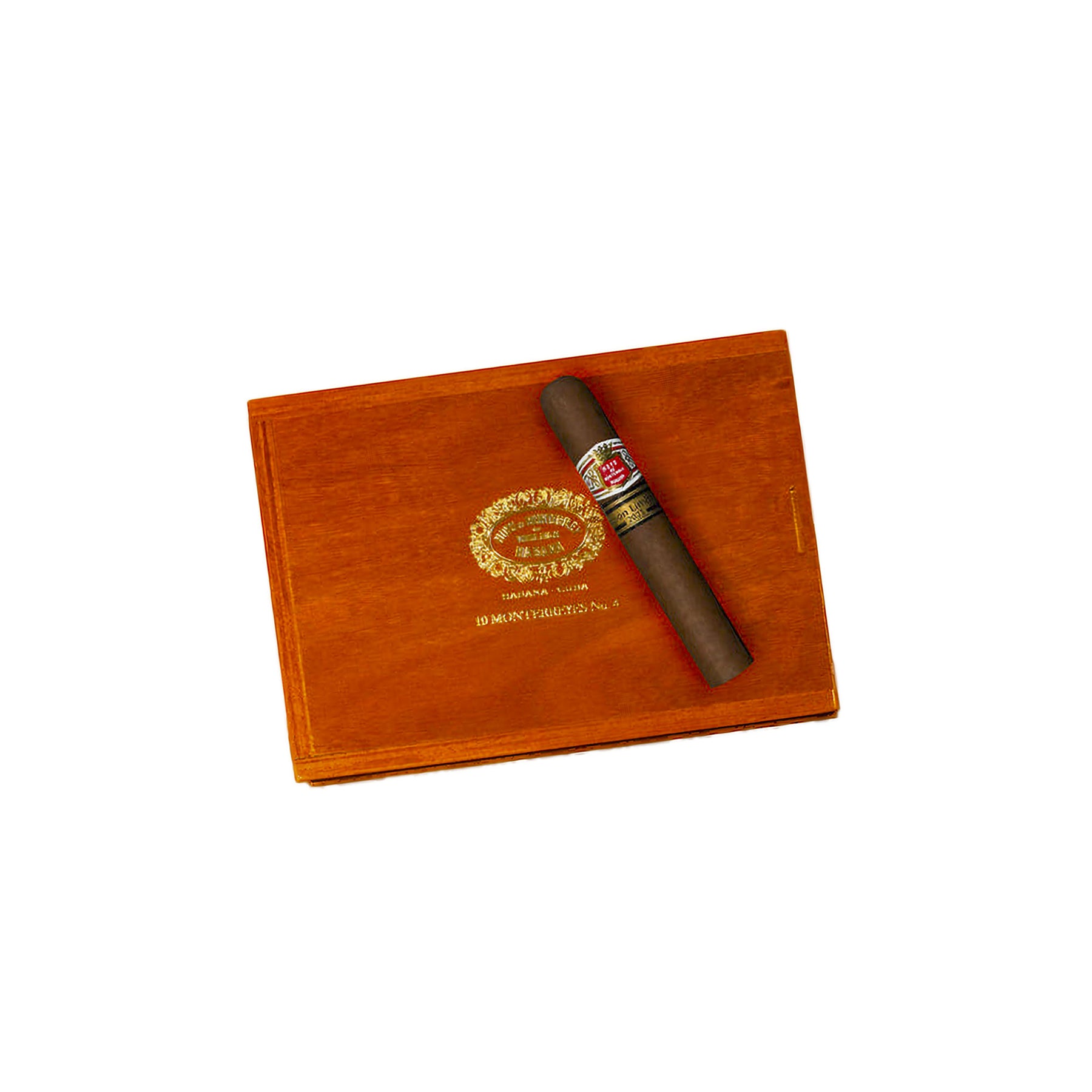 Monterreyes No. 4 - Limited Edition 2021

Product Description:
Step into a world of unparalleled luxury with the Hoyo de Monterrey Monterreyes No. 4 Edición Limitada 2021. This premium stogie marks its world debut as a part of the exclusive Edición Limitada series, offering a sublime smoking experience that is second to none.
Product Specifications
Dimensions: Measuring 5 3/4 inches in length with a 55 ring gauge.
Exclusive Shape: Presented in a new Maravillas No. 4 vitola, comparable to the Cohiba Behike 54 or the Trinidad Esmerelda.
Flavor Profile
Indulge your senses in a velvety, full-bodied taste that only a blend of premium, aged tobacco can offer. The rich and smooth flavor profile is sure to captivate even the most discerning aficionados.
Packaging
Your cigars come in a ten-count collection housed in a polished, slide-lid wooden case. The packaging alone makes it a sought-after collector's item.
Special Features
Extended Maturation: All the tobacco used has undergone an additional 2 years of aging, meeting the strict prerequisites for an Edición Limitada.
Conclusion
With its distinctive characteristics and memorabilia value, the Hoyo de Monterrey Monterreyes No. 4 Edición Limitada 2021 is not just a cigar; it's an experience. Don't miss the chance to add this exclusive offer to your collection.
Seize this exclusive offer and indulge in the ultimate luxury cigar experience today!
TAGS:
Hoyo de Monterrey Monterreyes No. 4 Edición Limitada 2021 Luxury Cigar Premium Tobacco Full-bodied Taste Maravillas No. 4 Vitola Worldwide Shipping Polished Wooden Case Extended Maturation Collector's Item
Hoyo de Monterrey owes its origin to the town of San Luis y Martinez, which lies at the heart of the Vuelta Abajo tobacco region. Here the Hoyo de Monterrey plantation, can be reached through a gate on the town's main square inscribed "Hoyo de Monterrey. José Gener. 1860". The Founder, the Catalan José Gener, first used the name of his vega on a brand of Habanos in 1865. The flavour of Hoyo de Monterrey's blend makes it an attractive choice for those who seek a delicate yet aromatic cigar; something lighter to the taste but with great elegance and complexity. The brand is a tremendous innovator; in 2005 it introduced the Petit Robusto vitola which has now been adopted by other major brands. Other success stories include the Le Hoyo Series, which stands out compared to other brands because it uses only the Seco and Ligero leaves from the Vuelta Abajo Region.