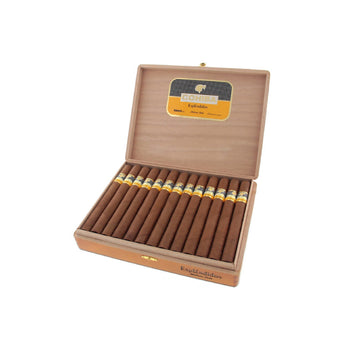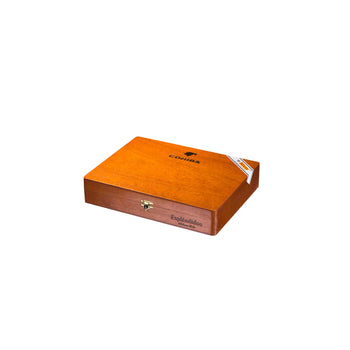 ESPLENDIDOS VINTAGE
Cohiba Esplendidos - VINTAGE Edition
Product Overview: Step into a world of timeless elegance with the Cohiba Esplendidos.
This vintage box was produced around 2016, it does not come with cardbox.
Representing the pinnacle of Cuban cigar craftsmanship, this vintage gem from the iconic Cohiba brand offers an intricate flavor journey that is reminiscent of Cuba's rich cigar heritage.
Dimensions: 178 mm x 47 - Churchill
Key Features:
Historical Lineage: Part of the Cohiba Linea Clasica line since 1989, carrying a legacy of excellence.
Complex Flavor Profile: Boasting flavors from dried grass and cedar to honey, citrus, almond, coffee, cream, and caramel.
Handcrafted Excellence: Meticulously handmade with a long filler at the iconic El Laguito factory.
Unique Tobacco Blend: Crafted using a special blend of Volado, Seco, and Ligero leaves.
Why "Cohiba Esplendidos - VINTAGE Edition"? The Cohiba Esplendidos is not just a cigar; it's a piece of history. With tales suggesting it was a favorite of Fidel Castro, its allure is undeniable. This vintage edition encapsulates the essence of classic Cuban cigars, making it a sought-after choice for those who appreciate depth, complexity, and tradition in their smoke.
Conclusion: The Cohiba Esplendidos stands as a testament to the timeless allure of Cuban cigars. It promises an experience that's both luxurious and memorable, making every moment with it truly special.
Tags: Cohiba Esplendidos, Vintage Cuban Cigar, Linea Clasica, El Laguito Factory, Churchill Size, Cuban Heritage.
Non contractual pictures
Cohiba is the most prestigious brand in the tobacco world. 
It was created in 1966 and for many years it was intended solely as a gift to government personalities, national and foreign, and to President Fidel Castro. Since then, it has been manufactured in the prestigious El Laguito factory in Havana. It was in 1982 when Cohiba became available to be enjoyed by the world's most demanding smokers in limited quantities. The name "Cohiba" is an old word used by the Taíno Indians, original inhabitants of the Island, to define the rolled tobacco leaves that these Indians smoked. Cohiba is for hence the first name of tobacco. Cohiba is the only Habanos brand in which two of the three types of leaves used to make it, dry and light, undergo additional fermentation. This special treatment gives Cohiba an unmistakable aroma and flavor, which cannot be found in any other brand. Cohiba, is synonymous with exclusivity, of something beyond the senses, a unique experience for lovers of the best tobacco in the world.