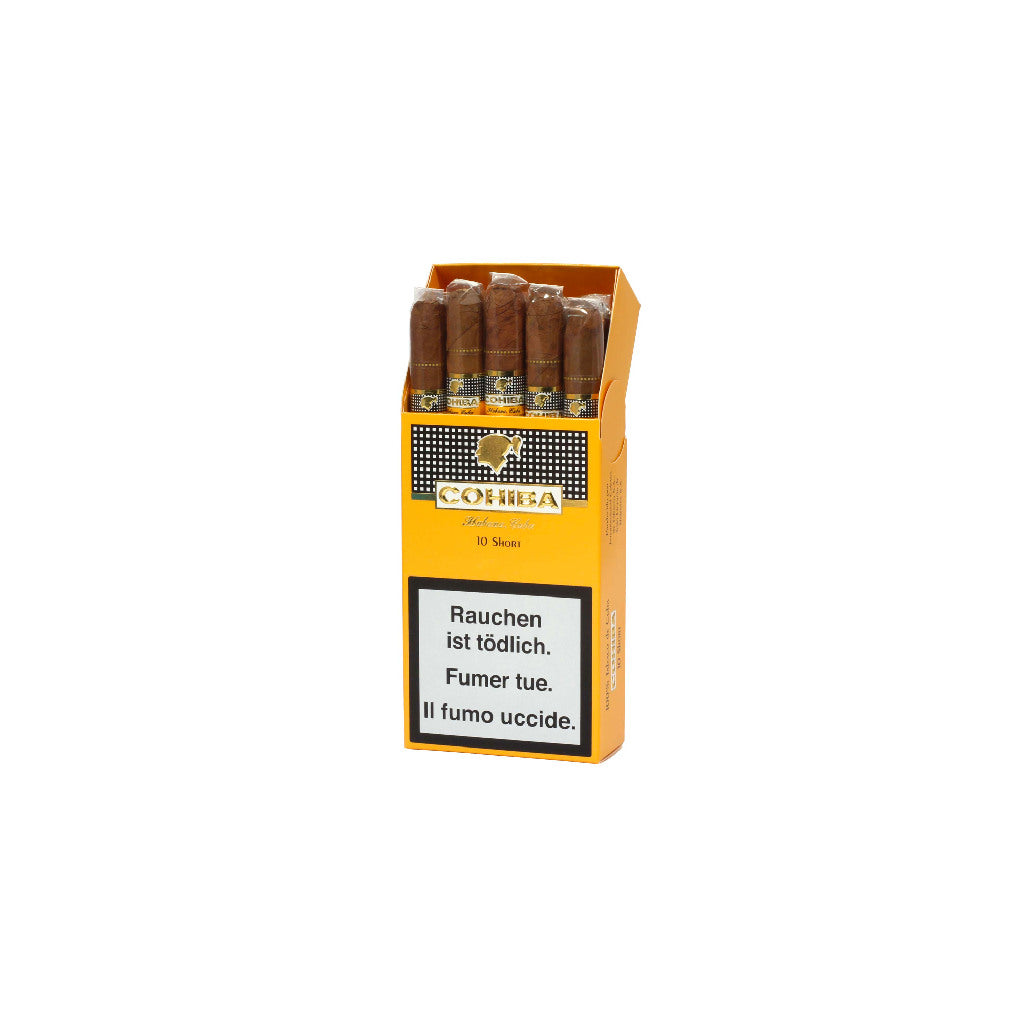 Short

In the world of cigars, few names carry as much weight and prestige as Cohiba. Known for their high-quality craftsmanship and exceptional taste, Cohiba has been a leading brand in the industry since its creation in 1966. Among their diverse range of products, the Cohiba Short stands out as a unique offering. This article provides an in-depth look at the Cohiba Short, exploring its unique characteristics, packaging, pricing, and the unparalleled smoking experience it offers.
Cohiba Short: A Detailed Overview
The Cohiba Short, as the name succinctly suggests, is a small cigar or 'cigarillo' that offers a quick yet satisfying smoke. Measuring at a slim 26 ring gauge and a short 83mm in length, these unique dimensions allow for a concentrated flavor profile that is distinctly Cohiba.
The taste of Cohiba Short is a testament to the brand's commitment to quality. Each puff delivers a rich blend of flavors, allowing the smoker to clearly taste the nuances of the 100% Cuban tobacco used in its production. The Cohiba Short is not just a cigar; it's a journey of taste, taking you through waves of spice, wood, cream, and leather, each note adding to the complexity of the experience.
Quality and Craftsmanship
The Cohiba Short is a testament to the brand's dedication to quality and craftsmanship. Unlike many cigarillos on the market, the Cohiba Short is machine-made from 100% Cuban tobacco, adhering to the classic Cohiba blend that has made the brand a favorite among cigar enthusiasts worldwide.
Each Cohiba Short is individually wrapped in cellophane, a detail that not only ensures maximum freshness but also speaks volumes about the brand's commitment to delivering a top-notch product. From the moment you unwrap the cellophane to your last puff, the Cohiba Short promises a smoking experience that is nothing short of exceptional.
Cohiba Short: Smoking Experience
The Cohiba Short offers a unique smoking experience that is both quick and satisfying. Despite its small size, it packs a punch in terms of flavor and strength. The medium-strength profile of the Cohiba Short makes it an excellent choice for both novice smokers and seasoned aficionados.
The flavor profile of the Cohiba Short is complex and layered. Waves of spice, wood, cream, and leather intermingle, creating a symphony of flavors that dance on the palate. Each puff reveals a new note, making the smoking experience dynamic and engaging.
Where to Buy Cohiba Short
Cohiba Shorts are available for purchase from at siglomundo.ch, you'll find a range of options to suit your needs.
Conclusion
The Cohiba Short is more than just a cigarillo; it's a celebration of the rich tradition and craftsmanship that has made Cohiba a revered name in the world of cigars. From its unique size and flavor profile to its meticulous packaging and accessible pricing, the Cohiba Short offers a smoking experience that is both premium and accessible. Whether you're a seasoned cigar aficionado or a novice smoker, the Cohiba Short promises a smoking experience that is sure to impress.
Cohiba is the most prestigious brand in the tobacco world. 
It was created in 1966 and for many years it was intended solely as a gift to government personalities, national and foreign, and to President Fidel Castro. Since then, it has been manufactured in the prestigious El Laguito factory in Havana. It was in 1982 when Cohiba became available to be enjoyed by the world's most demanding smokers in limited quantities. The name "Cohiba" is an old word used by the Taíno Indians, original inhabitants of the Island, to define the rolled tobacco leaves that these Indians smoked. Cohiba is for hence the first name of tobacco. Cohiba is the only Habanos brand in which two of the three types of leaves used to make it, dry and light, undergo additional fermentation. This special treatment gives Cohiba an unmistakable aroma and flavor, which cannot be found in any other brand. Cohiba, is synonymous with exclusivity, of something beyond the senses, a unique experience for lovers of the best tobacco in the world.