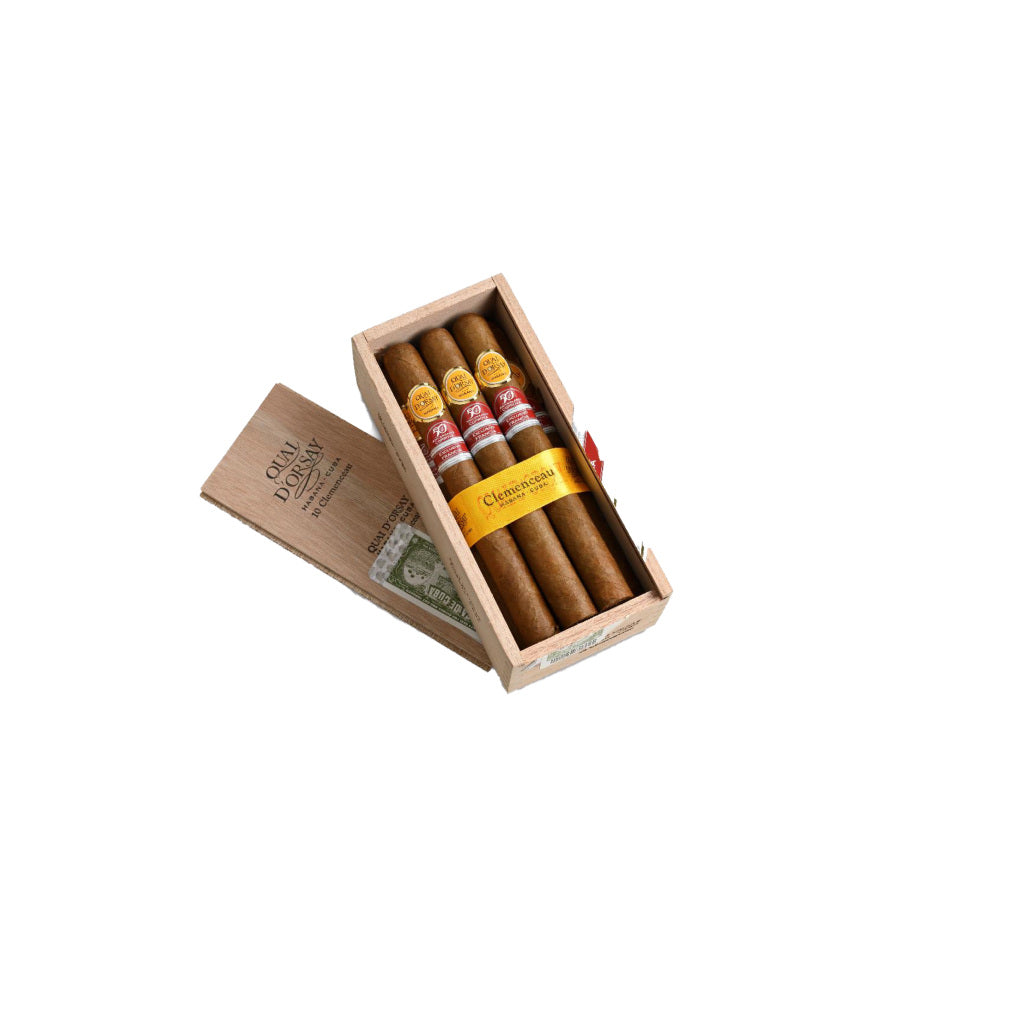 Clemenceau - REGIONAL FRANCE

Quai d'Orsay Clemenceau: The Epitome of French Elegance and Cuban Mastery
Product Overview: Embark on a journey where the sophistication of France meets the artistry of Cuba with the Quai d'Orsay Clemenceau. This limited-edition Cuban cigar, crafted exclusively for France, is not merely a smoke; it's a tribute. Celebrating Coprova's 50th anniversary and honoring the legacy of Georges Clemenceau, each draw is a testament to history, culture, and unmatched craftsmanship.
Dimensions: Churchill size, Julieta No.2 vitola, measuring approximately 47 X 178 mm by 52 ring gauge.
Key Features: • Exclusivity: A Regional Edition for France in 2020, its release is a rare occasion for cigar enthusiasts.
• Historical Connection: Named in reverence to Georges Clemenceau, encapsulating a significant chapter of French history.
• Prestigious Presentation: Each cigar is elegantly presented in a specially curated box, mirroring the grandeur of the Quai d'Orsay brand and the golden milestone of Coprova.
Why Quai d'Orsay Clemenceau?
• Golden Jubilee of Coprova: A cigar that symbolizes 50 years of Coprova's dedication, passion, and excellence in distributing Cuban cigars in France.
• Tailored Blend: A flavor journey crafted specifically for the discerning palates of French cigar aficionados, offering a unique and memorable experience.
Conclusion: The Quai d'Orsay Clemenceau is not just a cigar; it's a narrative of the timeless bond between French elegance and Cuban craftsmanship. A narrative that every aficionado would want to be a part of.
Tags: Quai d'Orsay Clemenceau, Coprova 50th anniversary, Cuban cigar for France, Julieta No.2, Churchill, Regional Edition, Georges Clemenceau, Edición Regional Francia 2020.
Quai D'Orsay is relatively a young brand. It was founded in 1973 by Cubatabaco, a state-owned company that was responsible for the production and distribution of Cuban Cigars in collaboration with SEITA (the French equivalent) - before Habanos S.A. took over.  Its name is due to the famous avenue of Paris located on the edge of the Seine where Seita had his offices at that time. For more than 40 years, the brand has remained a discreet jewel in the Habanos portfolio, accessible only to experts in the French market. 
Quai D'Orsay cigars are made "Totalmente a mano con Tripa Larga"-"Totally Handmade with Long filler" and light strength. They are very popular for their Claro leaf wrappers that give these puros their gorgeous light tanned color. Today Cuban cigars enthusiasts from all over the world are able to enjoy Quai D'Orsay cigar; discovering their refinement and French "charm" and all the strength, character and intensity of the best Cuban tobacco.