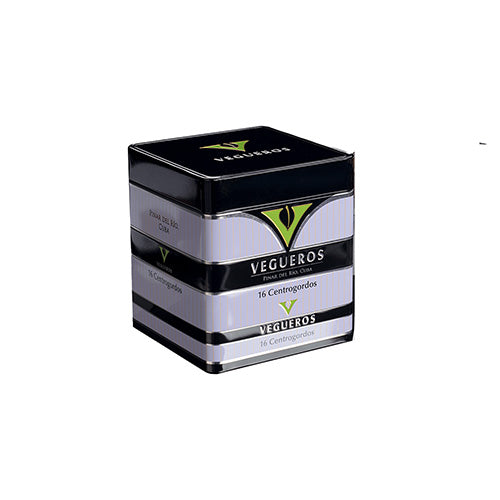 CENTROGORDOS

Product Highlights:

Unique Vitola Size:
The Vegueros CentroGordos stands out with its distinctive dimensions of 54 x 100mm (3.9 x 54), offering a robust yet elegant aesthetic for the discerning cigar aficionado
Modern Packaging:
Encased in a trendy 16-unit metal can, the Vegueros CentroGordos is presented with a fresh brand image that resonates with contemporary smokers while preserving the authenticity of the Cuban cigar tradition.

Flavorful Experience:
Crafted "Totalmente a mano con tripa larga" – Totally Handmade with Long Filler – the Vegueros CentroGordos offers a medium to strong flavor, providing a satisfying and rich smoking experience for both seasoned and new cigar enthusiasts.

Affordable Luxury:
the Vegueros CentroGordos is an accessible luxury, promising a unique Cuban cigar experience without a hefty price tag.


Indulge in the Vegueros CentroGordos Experience:

The Vegueros CentroGordos is more than just a cigar; it's a journey through the rich tapestry of Cuban tobacco culture. Each puff unveils the meticulous craftsmanship and the vibrant history that defines the Vegueros brand. Whether you're a seasoned aficionado or a newcomer to the cigar world, the Vegueros CentroGordos is a gateway to an unparalleled Cuban cigar experience.



Vegueros brand was introduced in the market in 1996 and pays tribute to all the farmers who from generation to generation have cultivated tobacco in the Vuelta Abajo Region, helping to create the culture of Cuban cigars. It is a tradition in the region, for the vegueros – farmers – to make their own cigars. Vagueros cigars are "Totalmente a Mano con Tripa Larga- Totally handmade with Long Filler", using wrapper, binder and filler leaves coming from the Vuelta Abajo region with a medium to full strength. The brand was totally renewed, after more than fifteen years of its birth, incorporating innovative formats within its portfolio: Tapados (46 x 120 mm length), Entretiempos (52 x 110 mm length), Mañanitas (46 x 100 mm length) and now, the range is enriched with the Centrofinos vitola (50 x 130 mm length), being an attractive option for those who seek a medium to full flavor Cuban cigar, accessible and renewed. The new vitolas of Vegueros are presented with the new image of the brand and in a 16-unit metal tin.