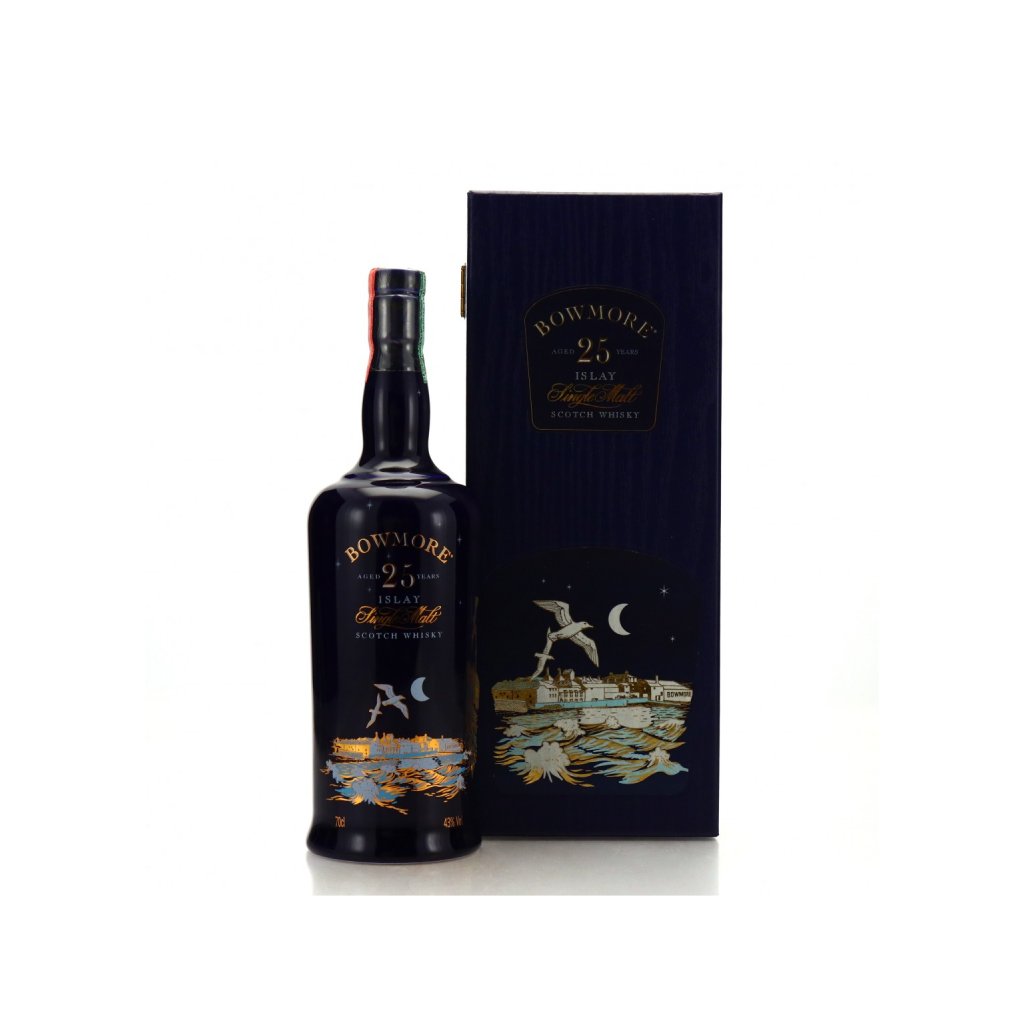 25 Year Old The Gulls 1990s
Bowmore 25 Year Old The Gulls from the 1990s is a product of Islay's oldest operating distillery, with its roots dating back to 1779. It is not only celebrated on Islay but is also recognized as one of Scotland's most esteemed malt producers. In 1963, Stanley P. Morrison acquired the distillery, marking the commencement of an era distinguished by the creation of iconic single malts. Among these, the legendary Black Bowmore, bottled in 1993, is often acknowledged as the starting point of whisky collecting. The distillery's ownership transitioned to Suntory the following year, building on their stake that had begun in 1989. Today, Bowmore remains a highly sought-after and collectible brand in the world of Scotch whisky. Remarkably, Bowmore stands as one of the few remaining Scottish distilleries that continues to utilize its own floor maltings, supplying 40% of its malt requirements.

In the historical context, during the formation of the Kingdom of Dalriada-in-Alban when Scottish travelers journeyed from their Celtic lands, they encountered resistance from the Pictish and Brythonic tribes already inhabiting the territory. Legend has it that a Pictish King's daughter fell in love with a captured Scottish warrior and aided him in escaping. Together, they embarked on a westward journey to Islay. However, tragedy struck as they were rowing towards the young warrior's home along the shores of Loch Indaal. A fierce storm battered their boat, causing it to crash against the rugged coastline.

When the young Scot's clansmen arrived, they found only wreckage and no trace of the lovers. However, a pair of white gulls soared and glided together over the Loch, unable to settle on either the western or eastern shore, as if torn between the two.

These particular Bowmore bottlings, known as Bowmore 25 Year Old The Gulls, were first introduced in the early 1990s.
Disclaimer: This product contains alcohol. Due to shipping regulations, we can only ship this product within Switzerland. Any orders placed for delivery outside of Switzerland will be cancelled and refunded.