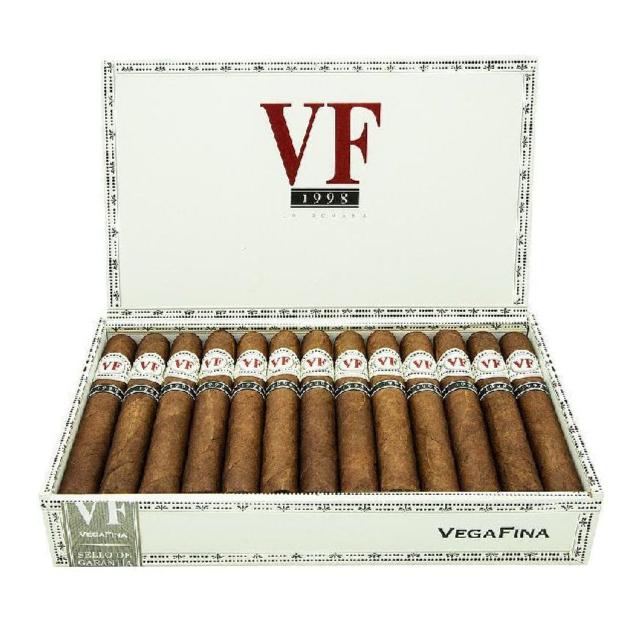 1998 54

PRODUCT TITLE: VegaFina 1998 VF54 Toro
Product Overview: Experience the epitome of cigar craftsmanship with the VegaFina 1998 VF54 Toro. This premium cigar, a proud addition to the VegaFina line, offers aficionados a unique blend that's been meticulously crafted with the finest tobacco leaves from five different countries, including the Dominican Republic, Nicaragua, and Colombia.
Dimensions: 155mm by 54 ring gauge.
Key Features:
Wrapper: Ecuadorian HVA, providing a rich and flavorful outer layer.
Binder: Indonesian Java, adding complexity and depth to the flavor profile.
Filler: A blend of tobaccos from the Dominican Republic, Nicaragua, and Colombia, aged for at least 4 years.
Flavor Profile: A symphony of flavors, including leather, dark roast coffee, nuts, spices, and lush hints of molasses.
Aging: All tobaccos aged for at least 4 years, ensuring a smooth and refined taste.
Packaging: Available in elegant red and white boxes of 10, perfect for gifting or personal enjoyment.
Why "VegaFina 1998 VF54 Toro"? The VegaFina 1998 VF54 Toro is not just a cigar; it's a celebration of VegaFina's heritage and a tribute to the art of cigar making. Rated 92 by Cigar Aficionado, it's a testament to VegaFina's commitment to excellence. Whether you're a seasoned smoker or new to the world of cigars, the VF54 promises an unparalleled experience, capturing the essence of fine tobacco with every puff.
Conclusion: The VegaFina 1998 VF54 Toro stands as a beacon of tradition, craftsmanship, and the rich flavors of fine tobacco. With its top-notch construction, great burn, easy draw, and alluring sweet aroma, it's destined to become a staple in your humidor. Order yours today and discover a delicious smoke that's certain to become one of VegaFina's finest premium cigar offerings.
Tags: VegaFina, 1998, VF54, Toro, Ecuadorian HVA, Indonesian Java, Dominican Republic, Nicaragua, Colombia, Premium, Handmade, Authentic, VegaFina 1998 VF54 review, VegaFina 1998 VF54 UK, VegaFina 1998 VF54 precio.